How Can We Help?
Your search results are loading...
No results match your query. Please try a different search.
Will my existing fixtures work with NorthLux™ 95 CRI T8 LED Tube Lights?
I'm an artist and I need better lights for my studio. I currently have 8 fluorescent bulbs that measure 47" from end to end. The NorthLux sounds perfect but I need to know exactly what I need in order to use them. Will my existing fixtures work or will I have to replace them?
The first thing to check is to ensure that our 4-ft T8 lamps will physically fit in your fixture. If your current lamps measure 47" (hopefully 48" if you include the pins), that sounds like we're definitely in the ballpark!
​If you can provide additional photos or model numbers of the current lamps, that should be helpful for us to confirm. A common designation, which would affirm physical fit, would be "F32T8".
We will next want to confirm electrical compatibility. Our T8 lamps can be used in fixtures without rewiring anything, if the fluorescent ballast used in the fixture is listed on our compatible ballast list. The compatible ballast list can be found in the instruction manual below:
https://www.waveformlighting.com/datasheets/UM_4024.pdf
Should the ballast model not be listed on our compatible ballast list, the fixture will need to be rewired to bypass the ballast completely. Additional connectivity diagrams are also shown on the instruction manual posted above.
Below is the photo of what I have. I put these lights up sometime in the early 90s so everything is quite old. I see the code F40T12 which is not what you specified (F32T8) so something tells me I'm going to have to replace everything.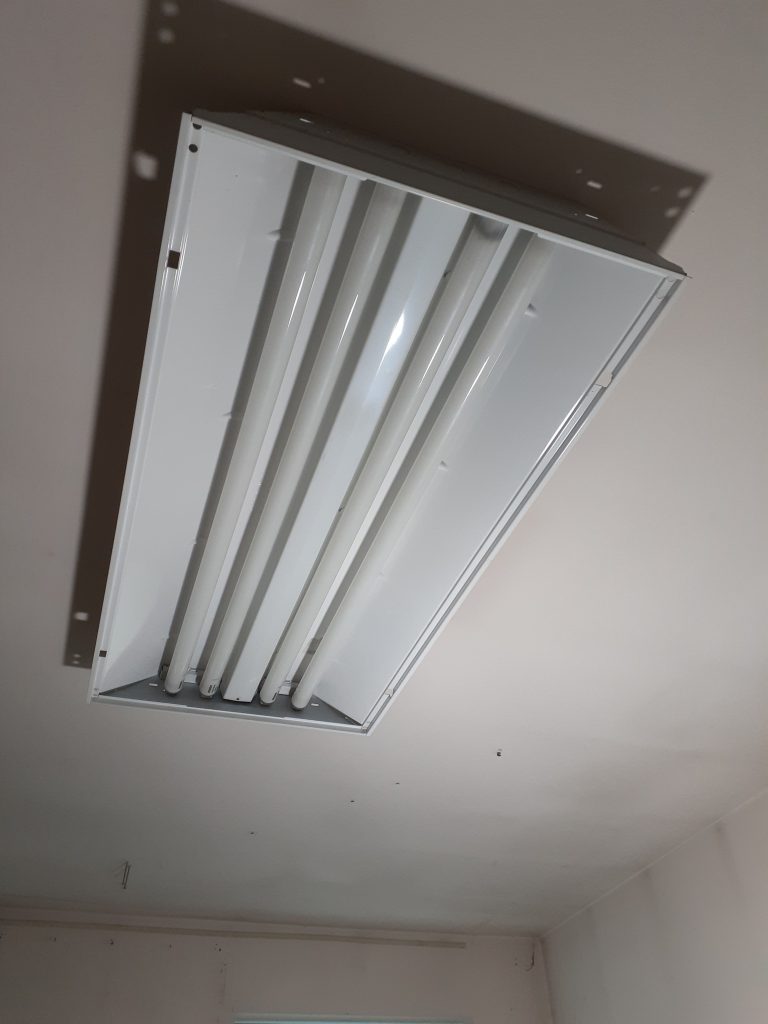 The F40T12 is an older, larger lamp compared to the F32T8, but the length and pin connection are identical, so the good news is that the existing fixture will physically accommodate our T8 LED lamps.
​The (slightly) bad news is that the F40T12 fluorescent lamps use a different type of ballast technology that our lamps are not compatible with. This means that the existing fixture will need to be rewired such that the fluorescent ballast is completely removed, or bypassed.
The fixture will need to be rewired according to the diagrams shown in the installation manual, which I have linked to below:
https://www.waveformlighting.com/datasheets/UM_4024.pdf
If you are not familiar with or are uncomfortable with rewiring your fixture, we would recommend working with an electrician to get that complete.
The fixtures I have are really old and were pretty cheap to begin with. Would it make more sense to just take them out and get new ones? If so, could you point me to ones that you would recommend?
From a safety and performance perspective, old fixtures are generally not a problem, unless you are seeing some significant corrosion or other signs of fixture degradation.
​
If, however, for aesthetics or other reasons you are looking to replace the fixtures completely, that can also be an option for sure.
​
It can be a bit tricky to identify new compatible fixtures, however, as many are still sold with fluorescent ballasts inside, and we have no way to guarantee compatibility since fixture manufacturers will often swap out the ballast inside the fixture without advance notice.
We wish we had a list of tested fixtures, but unfortunately we do not have any at this time. A search for "LED ready T8 fixtures" online may yield some results for fixtures which specifically do not have the fluorescent ballast pre-installed. Our lamps should be fully and immediately compatible with fixtures that have this designation.
How about these? LED Ready High Bay
We've reviewed the specs for PLT-20023, and while we have not tested this product, I believe this should work well with our T8 LED lamps.
​
The "single ended direct-wire" and T8 4-ft length specifications are the key specs, both of which are a match with ours.
​
Question posted under:
T8 LED tube lights
Ceiling Fixtures
Fluorescent replacements
Related Knowledge Base Questions