How Can We Help?
Your search results are loading...
No results match your query. Please try a different search.
LED Lighting and Dimmers for Laundry Room Lighting
I'm hoping you can help me a little with my laundry room lighting. Here are the specs: basement location - 1 small window in a well (almost no natural light). Room is 7.5' by 11.8', ceilings is 7.5' high (currently lit by a 4 t8 tube troffer fluorescent light in a drop ceiling). Block wall is off white -all wiring is surface wiring in conduit.
Our high CRI LED products sound like a great fit for your retrofit installation, and the use of our LED strip lights in your fluorescent fixtures sounds like a great idea.
​
I don't foresee any issues from a performance perspective, but if there are any electrical code or inspection concerns, we would recommend confirming that this is a permissible installation method as regulations can differ depending on the specific inspectors as well as authorities having jurisdiction.
One alternative option would be to keep the fluorescent fixtures in place and utilize our T8 retrofit lamps, which offer the same level of color quality.
Should I use 2 strips or 4 by my calculations 4 would be giving me almost 8000 lumens, and this is not a baseball field. Will 2 strips look like 2 long blobs up there? or will I have even light over the troffer?
I inputted the provided room dimensions into the lumen estimation calculator (https://www.waveformlighting.com/lumen-calculator). Based on a target of 60 footcandles (which should provide you with a very nice level of brightness for most laundry-related tasks without being overly bright), the recommended lumen output for the lights would be approximately 6000 lumens.
​Your calculations are correct that four 4-ft rows of the LED strips would provide you with approximately 7200 lumens (450 lumens per foot * 16 feet). I do not think this is an unreasonable amount of light, especially if you have a troffer diffuser that will reduce the light output a bit.
I'm a little confused about dimmer options...I see that you have a triac dimmer compatible power supply. Are all wall dimmers triac? or just the standard incandescent ones. Do I still need to get an LED or other specialty dimmer from Lutron etc...i.e. low voltage electronic dimmer?
Most wall dimmers utilize TRIAC phase dimming, and our TRIAC dimmable power supply is compatible with most standard residential wall dimmers. Some of the most commonly seen wall dimmer brands include Lutron and Leviton. Please see below for a list of dimmers which we have tested compatibility for: https://www.waveformlighting.com/files/DC_3093.pdf
I was thinking I would use the 24 v option since I might like to run some of the strips in the hallway outside the laundry room and that would require a little more distance between the power supply and strip light. Does that make sense? I will be having an electrician do the actual installation.
Generally, 24 volts is almost always a better option when running longer wire connections. This is because a higher voltage option requires lower amperage, which is typically what causes voltage drop issues. For additional information on voltage drop, please see our article below: https://www.waveformlighting.com/home-residential/what-is-led-strip-voltage-drop
In order to connect my troffer strip to the next strip out in the hallway, I would use your 16 gauge wire that you sell by the spool, I believe. Would I be using the strip to wire pigtail connector that you sell? If so, how do I join the two wires? wire nuts in a junction box? or is there a way to solder the wire to the strip at either end and add a cover for protection?
The best way to accomplish this connection would be to use our PN 3070 solderless connector, joined to the 16 AWG wire using wire nuts. Please see the screenshot below, taken from the layout maps found at this link: https://www.waveformlighting.com/layoutmaps/3001_1B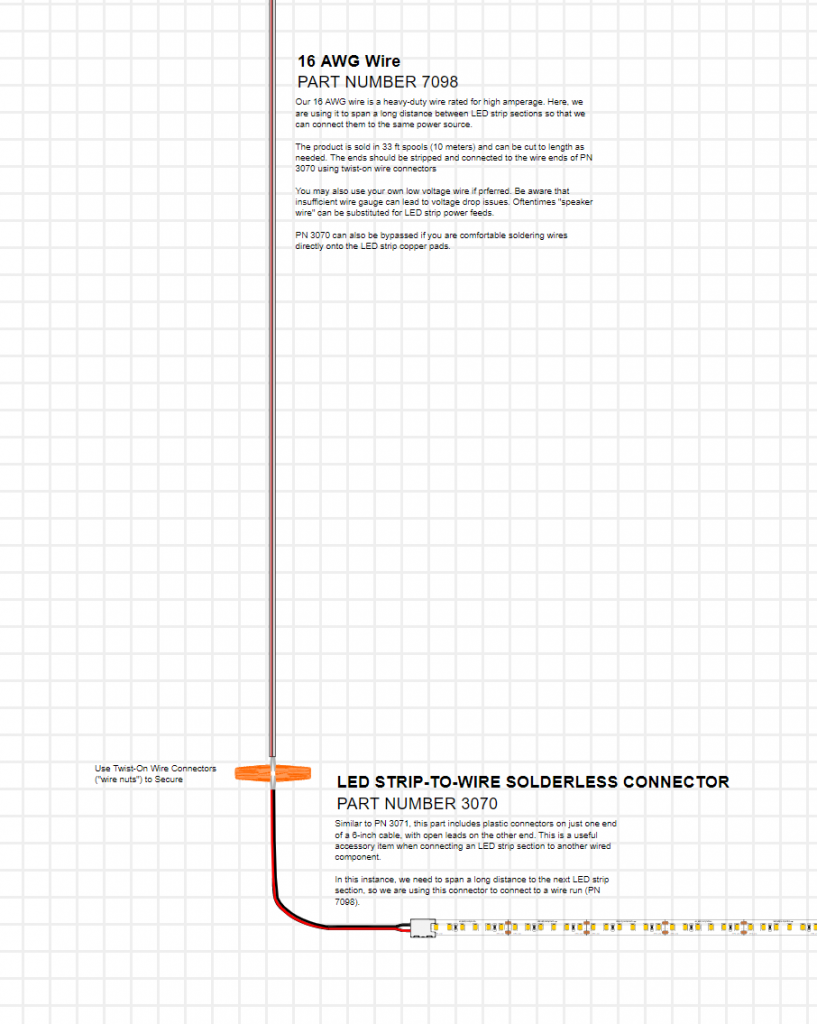 You may of course also forgo the PN 3070 component and solder the 16 AWG wires directly onto the LED strip copper pads as needed.
Also, is it possible to buy smaller quantities of the various connectors? I don't want to buy 10 if I only need two.
Unfortunately the connectors are pre-packaged packs of 10 and we would have no way to offer just two of them. Sorry for the inconvenience!
Question posted under:
LED bulbs (General)
LED strip lights
LED dimmers
LED Drivers
Related Knowledge Base Questions