How Can We Help?
Your search results are loading...
No results match your query. Please try a different search.
Choosing Compatible Flicker-free LED Dimmer
I was reviewing your 24V LED strip lights and I'd like to know if they meet the other criteria on the attached list (text file attached, and also printed below). 

If so, I'd like some assistance choosing a compatible dimmer that will provide flicker-free dimming on the low end down to 0.1 percent.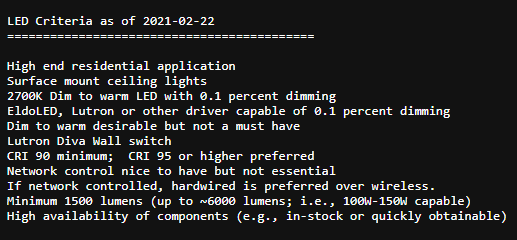 Our CENTRC HOME LED strip lights do meet the color requirements provided - i.e. 95 CRI, 2700K, in-stock. Please see below for the product link:
​The product can be dimmed when paired with our dimmable power supply. Please see below for the product link:
​We also maintain a compatible dimmer list, which shows the dimming range (e.g. 0-100%), which can be found below. This should be a good way to confirm the requirement for dimming down to 0.1%.
​https://www.waveformlighting.com/files/DC_3093.pdf
Question posted under:
LED power supplies
LED dimmers
LED Drivers
Related Knowledge Base Questions