How Can We Help?
Your search results are loading...
No results match your query. Please try a different search.
LED Dimmer Dimension and Wiring Length
I recently purchased: 3 x 3001.56 LED strips and 2 x 3093J Power supplies I'm trying to find a single gang wall switch with two rotary knobs. (I for each power supply). Assuming the need for forward phase dimming I'm not finding anything suitable. I'm thinking it might be best to buy a 2 x 3081 flicker-free LED dimmer. Can someone send the dimensions of the dimmers so I can look into building a desktop enclosure? Also, how long are the input/output wiring leads? The LEDs will be installed and used for safety step lighting in a reference-grade color correction theater (post-production). 
While we generally recommend utilizing an in-wall dimmer for installations which includes the TRIAC Dimmable Power Supply, I believe that the FilmGrade™ Flicker-Free LED Dimmer would be compatible if a barrel-jack adapter is installed between the supply and dimmer products.
There may also be third-party dimmers available online that could be utilized for individually controlling the segments of light strips, such as Lutron Caseta products. Though I do not have any specific products to recommend at this time.
We have attached a marked-up image below, which contains the rough dimensions for the FilmGrade™ Flicker-Free LED Dimmer. We can also confirm that the two wires of the product are each 4 ft (1.2 meters) in length.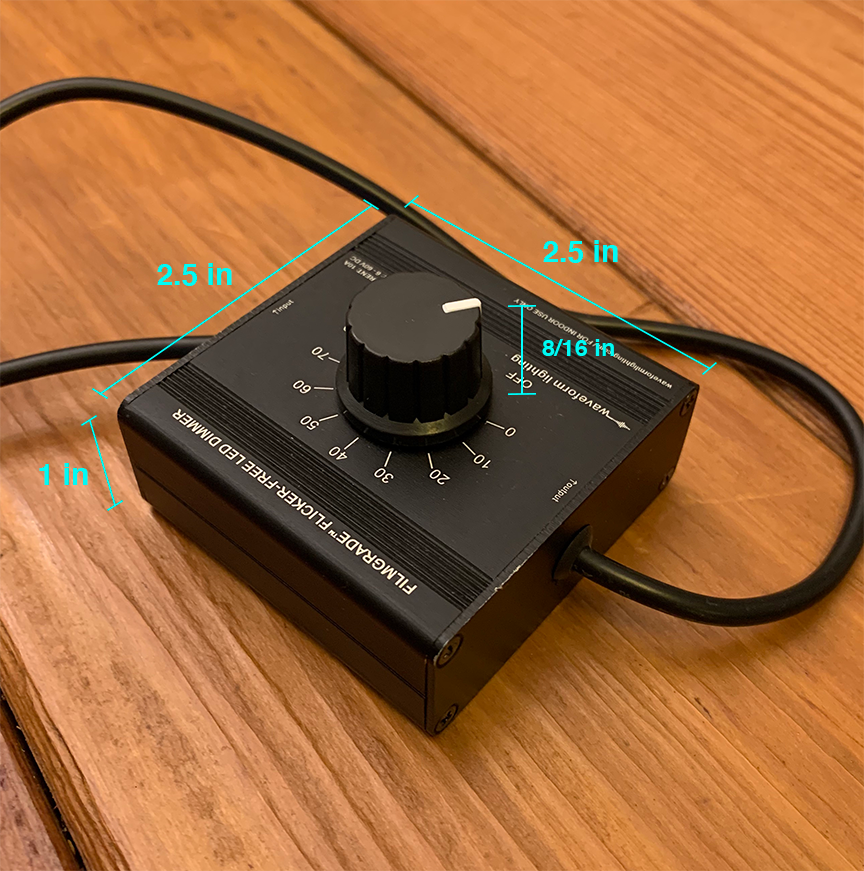 Question posted under:
LED strip lights
LED dimmers
Related Knowledge Base Questions