How Can We Help?
Your search results are loading...
No results match your query. Please try a different search.
Layout Design for Tape Light Installation
If I provide you with a sketch of my planned tape light installation, can you provide information regarding the appropriate transformer and all other parts? 
​In the meantime, I've linked to our layout maps page which shows several sample installation configurations and may be a helpful starting point for you:
​https://www.waveformlighting.com/layoutmaps
Attached is a draft of my layout. I plan on hard-wiring the power supply to a wall dimmer switch. I'm sure you will have questions. If you do let me know.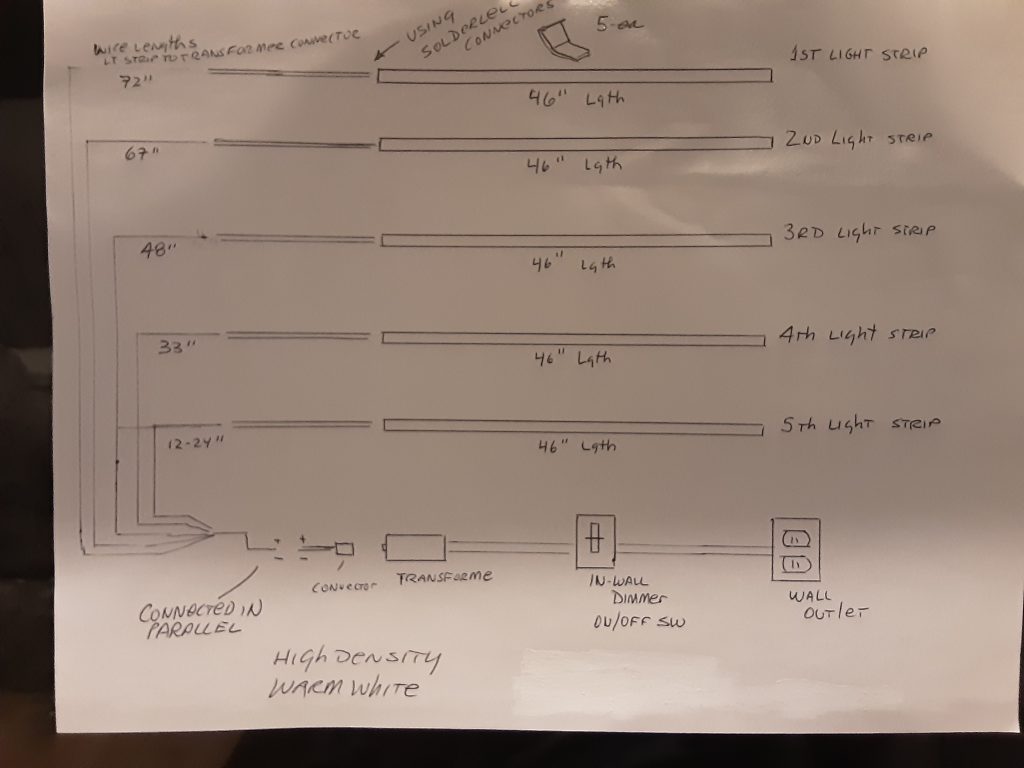 ​Your layout looks great, and I do not see any issues apart from a potential power capacity limitation.
​From your drawing, I see five sections of 46 inches each. If I've done the math correctly, this works out to approximately 19.2 ft in total.
​Each foot of our LED strip light draws approximately 5.5 watts. This equates to a power capacity requirement of approximately 106 watts.
The drawing does not indicate the voltage (12 or 24 volts), but this will likely determine what is permissible here. While the 12-volt version of our TRIAC dimmable power supply will be able to support up to 120 watts per connection, our 24-volt version is limited to 96 watts. As such, the 12-volt version would be the only way to connect the entire circuit to a single power supply.
The only downside to the 12-volt version is greater susceptibility to voltage drop and the fact that the circuit would not comply with NEC Class 2 power limitations, making electrical code compliance potentially a bit more challenging (if that is a concern).
Based on the LED length per segment being less than 4 feet and the feeds being relatively short (max 72 inches) I do not foresee any voltage drop issues even with the 12-volt version.
Finally, we do not have any in-house products/adapters to join all five segments near the power supply, so you may need to create your wire junction or utilize third-party products for this connection point.
Please elaborate on what you meant by the fact that the circuit would not meet NEC Class 2 power limitations making the electric code compliance potentially a bit more challenging.

Would this cause a problem with house inspections, hard wire connections to a wall dimmer, etc?

If so, how could the design be changed?
When it comes to building inspections (typically subject to NEC standards), our LED strip lights themselves are rated for use in Class 2 circuits only. As such, the use of our LED strips on a Class 1 circuit would technically be a violation of the NEC rules and regulations. We would therefore recommend staying with a Class 2 installation.
At a basic level, our 24-volt TRIAC dimmable power supply (96-watt capacity) is a Class 2 power supply that can power up to 16.4 ft of LED strip lights. As such, as per my calculations, you would be able to connect up to four segments of 46" each, as that would total 15.3 ft, which would be below the 16.4 ft limit.
Question posted under:
LED strip lights
LED dimmers
LED Drivers
Related Knowledge Base Questions