How Can We Help?
Your search results are loading...
No results match your query. Please try a different search.
LED Strip Lights Components Installation Layout
We are new to LED lighting and need help in selecting the necessary LED components for a home project. We have a simple drawing we can send along to show what we are doing.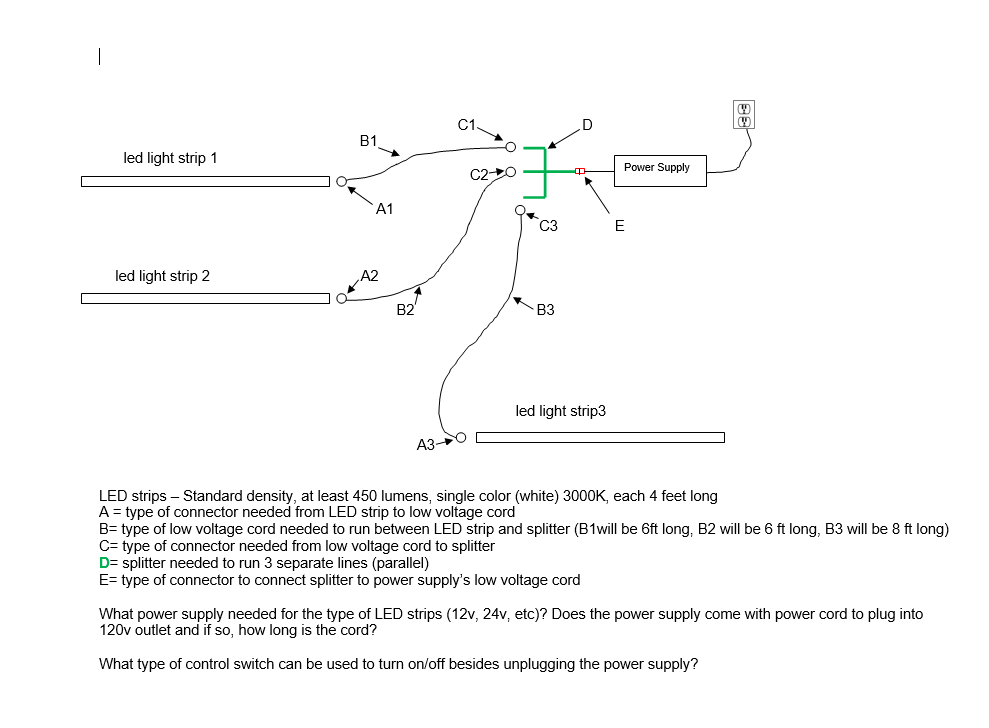 I've evaluated the LED layout sketch and would be more than happy to provide some information and recommendations on your proposed layout.
​First of all, unfortunately, the "splitter" approach you describe is certainly feasible from an electrical perspective, but it would be not supported with the range of components and adapters that we currently offer. You will need to convert the power supply output plug to bare wire, and then purchase some third-party wire splitters such as the one shown below:
​https://www.homedepot.com/p/Ideal-In-Sure-Push-In-Wire-Connector-3-Port-Orange-10-per-Bag-Standard-Package-is-6-Bags-30-1333S/203734796
One alternative, depending on the location and wiring distance, would be to connect the LED strip light sections in an end-to-end configuration. Please see below for an example layout diagram, as well as a list of products needed to accomplish this installation:
https://www.waveformlighting.com/layoutmaps/3001_1B
We offer both a 12-volt and 24-volt power supply, which will need to be selected based on the LED strip light voltage that you choose to use (both 12 and 24 volts are generally available). The power supply includes the plug-in wire which is 4 ft long.
​There are no switching features on the power supply or cable, so you will need to use a switched power outlet, or install an inline switch between the power supply and wall outlet.
For your suggested layout, it would not work in getting from one shelf down to the next and then over to one on the other side of the stove to the third shelf. We would have wires tacked to the wall. We were looking for these to be mostly hidden under the underside of the shelf and with minimal wires tucked inside a wall track we have.

Our neighbor had what we are describing and it was done with one manufacturer, they just don't remember what manufacturer, and it was done about 3 years ago. The electrician also explained how LED is not really a common trend yet and probably not a DIY project.
The splitter method is actually very much a viable option with our LED system - the only issue is that this will require the use of third-party components which we are unable to support directly.
Many of our customers have found that their local electricians have quite a bit of experience installing LED systems, so that may be another option for you should you want to consider that.
​
Question posted under:
LED strip lights
Related Knowledge Base Questions