How Can We Help?
Your search results are loading...
No results match your query. Please try a different search.
Pure White LED Bulb for Residential Lighting
I found that most residential LED bulbs look somewhat orange in color. Especially at night. I find them hard to read. I want a pure white bulb but find them difficult to attain. What do you recommend, please? I would also like a high-wattage bulb 150-watt equivalent.
For a neutral white color temperature, we usually recommend the 4000K option. If it proves to be helpful, we have attached a color temperature guide from our website below.
Which LED Light Color Temperature Should I Choose?
While we do not have a 150W equivalent currently available, you may alternatively be interested in our new 100W-equivalent 4000K CENTRIC DAYLIGHT™ Full Spectrum Flicker-Free A21 15W LED Bulb.
Can you please explain what 4000K, 5000K, and 6500K means? I appreciate your willingness to help me understand LED technology, which is somewhat difficult to understand.
Generally speaking, color temperatures (4000K, 5000K, 6500K) are measurements for the color of light being produced by a light source, measured in degrees Kelvin.
​For example, the 'warm orange' tones that you referenced earlier were likely the output of 'warm' color temperature lightbulbs, such as 2700K or 3000K. These warmer color temperatures are usually recommended for homes and residential properties.
Comparatively, the 'cool white' lights that you have likely seen in factories, large stores such as Costco, or hospitals are usually 5000K or 6500K. Offices usually use the more 'neutral' 4000K color temperature.
In the hopes that it proves to be helpful, we have attached an image from a blog post on our website below, which displays the visible difference that the most common color temperatures would have on the same kitchen installation. As you can tell from the image, the higher degrees Kelvin, the cooler the light output becomes.
Blog post link: https://www.waveformlighting.com/home-residential/what-led-strip-light-color-temperature-should-i-choose?src=pse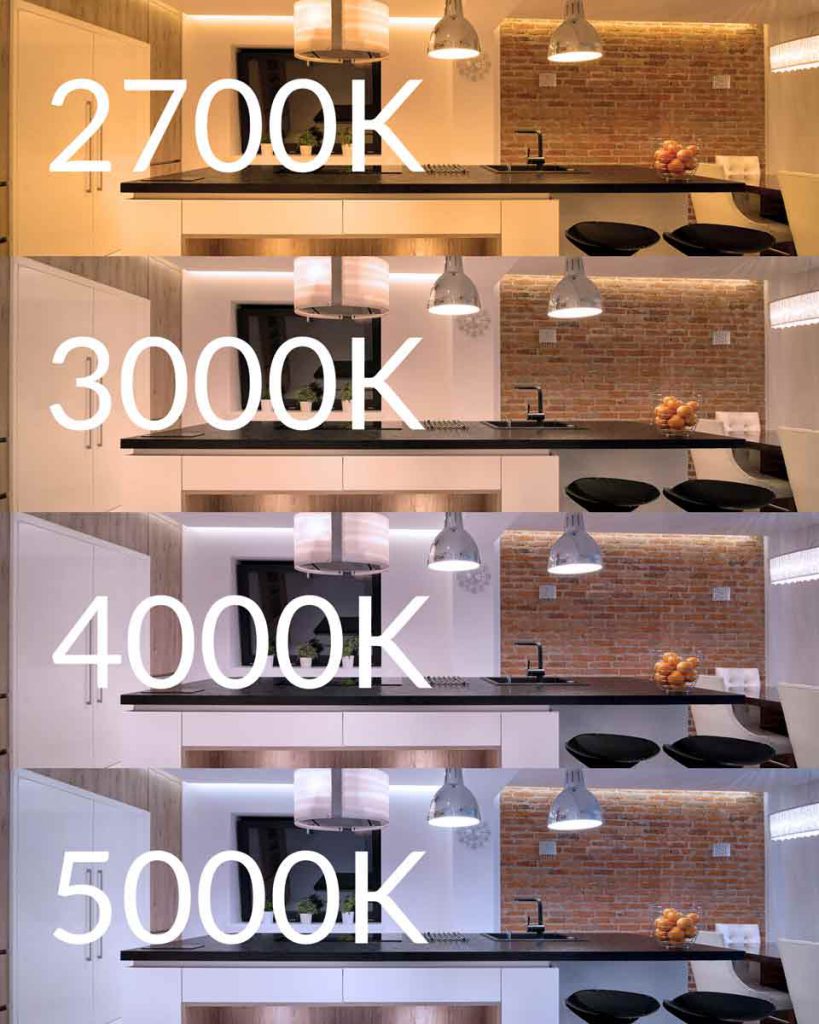 Question posted under:
Home / residential lighting
A19 Bulbs (60 watt equivalent)
A21 Bulbs (100 watt equivalent)
BR30 Bulbs
Related Knowledge Base Questions